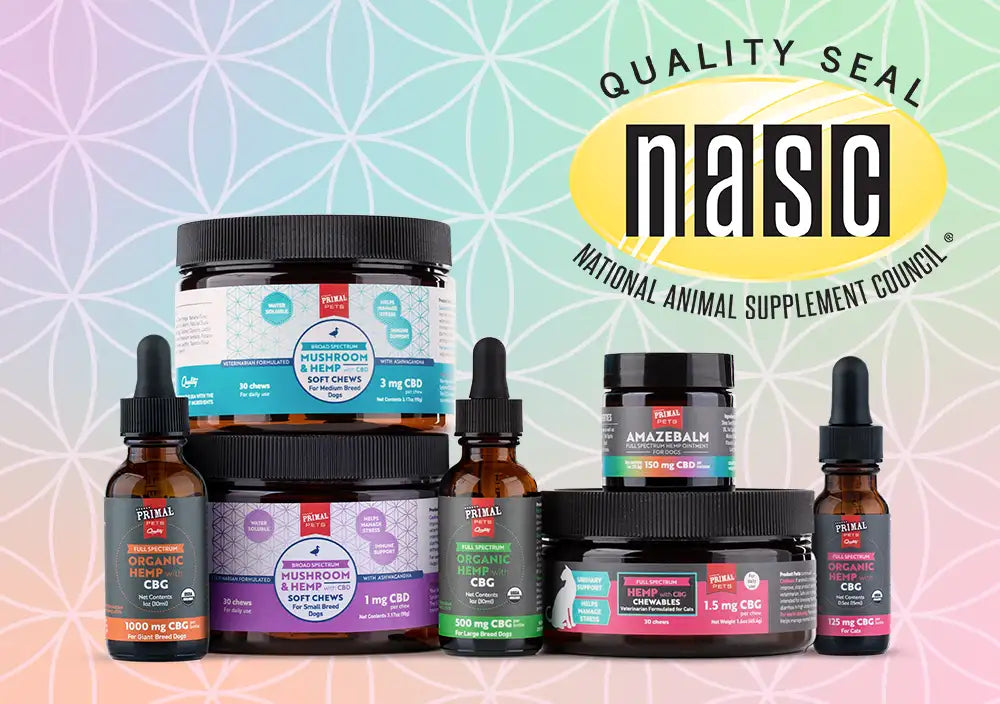 Why We're Proud to Display the NASC Quality Seal
Learn more about why Primal Pets is a member of the National Animal Supplement Council (NASC) and the standards that Primal must meet in order to display the NASC Quality Seal.
Your pet's safety is our top priority at Primal. All Primal products are crafted in the USA from thoughtfully sourced, USA-grown hemp and are tested at a third-party lab to ensure your pets' safety. As part of this commitment to your pet's safety, Primal Pets is also a proud member of the National Animal Supplement Council (NASC).
NASC is an organization whose primary goals are to improve the quality and consistency of animal supplements. NASC members are those who agree with the importance of quality and safety standards within the industry and work in conjunction with other manufacturers and the NASC to develop various industry standards.
While NASC members are companies who are committed to manufacturing high-quality supplements, being a member alone does not give you permission to display the NASC Quality Seal. Members who desire to display the NASC Quality Seal on their products must meet additional criteria:
Pass a comprehensive facility audit
Maintain ongoing compliance with rigorous NASC quality standards
Participate in annual continuing education facilitated by NASC
Pass random, independent product testing to ensure the products are meeting label claims
All Primal Pets supplement ingredient panels have been extensively reviewed by the NASC scientific advisory team. Additionally, Primal has provided documentation to the NASC backed up with scientific research regarding claims related to our supplements. These rigorous third-party audits ensure the safety, quality, and efficacy of our supplements. Primal is proud to display the NASC Quality Seal because it guarantees compliance with top-tier labeling and quality standards.