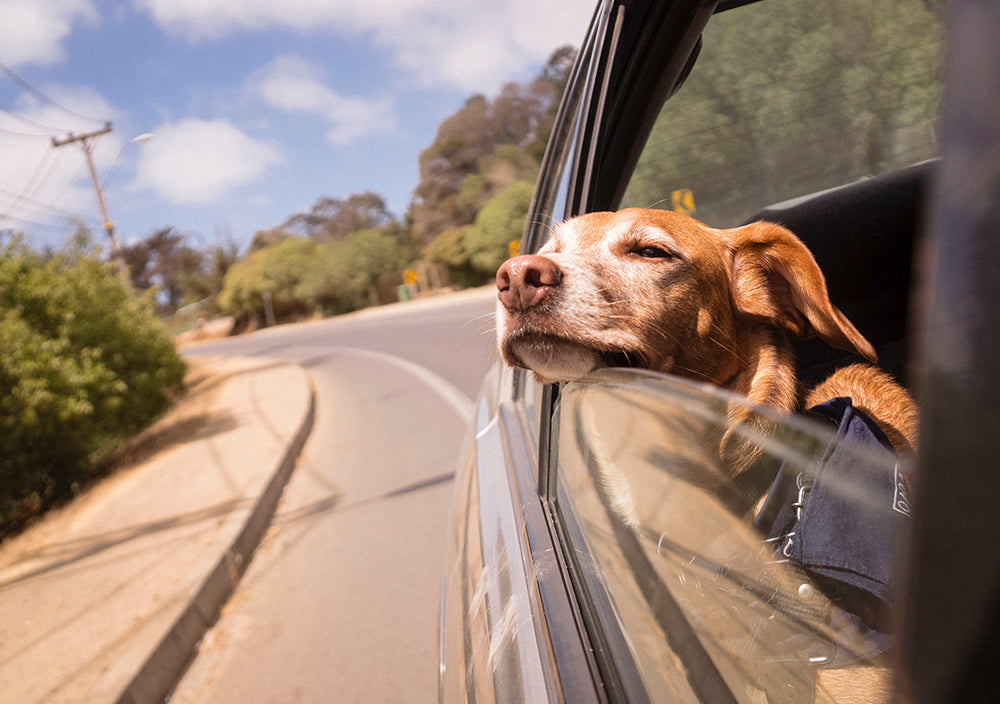 The Primal Guide to Traveling with Dogs
Planning a trip with your pet this summer? We've gathered a list of travel essentials to help you & your furry friend make the most of your trip!
Packing & Preparing
When packing for our furry friends, it's important to plan ahead. Along with the essentials—food & water, medications, leash, ID tags, and poop bags—it's important to consider your pet's activities for the duration of the trip and plan accordingly.
We've rounded up a list of packing essentials to help you & your furry friend make the most of the adventure ahead:
Photo: @apollointhewild
Camping
Even the best adventure dogs need supplies!
Adventure-ready Nutrition 

Primal's Freeze-Dried Nuggets are lightweight & portable and can be fed dry or rehydrated with water. Your pet will love having their favorite food on your journey and it will reduce the stress of changing up their eating habits.

Collapsible Food & Water Bowls
Compostable Poop Bags
Treats & Treat Pouch

From stray pebbles to spiky plants, nature can be rough on your dog's paw pads. Whether you choose booties or a protective paw balm, it's important to ensure your pet's paws stay shielded from the elements. AmazeBalm is a soothing balm that combines moisturizing butters with CBD derived from organically-grown hemp for an easy way to protect & relieve your pet's paws.

First Aid Kit
Pet-friendly Sunscreen & Bug Spray
Flea & Tick protection
Recovery Support

Organic Hemp Oil with CBG is a great non-drowsy option for adventure dogs who may experience occasional muscle stiffness on the trail.
Photo: @watsonthedox
Hotel Stays
Sharing walls with other guests means helping your pup stay on their best behavior by keeping them occupied with enrichment activities.
Toys & Chews: Consider "silent squeaker" or crinkle toys to be respectful of other guests.
Lick mats or Slow Feeders
Interactive puzzle toys

Looking for the perfect fit for your pet's favorite puzzle toy? Try Freeze-Dried Raw Toppers — lightweight, meat-first pieces your pet will love!

Daily Supplements

All of our CBD supplements, like our Mushroom & Hemp Soft Chews, are fast-acting, making them the perfect choice for new or stressful situations. For more anxious pets, you can even double their daily dose to help boost effects.
Photo: @lifewithlunamae
Anxious Pets
Change can be hard for many pets, and that's okay! If your pet has trouble adjusting to new environments, bringing along their favorite toy, mat, bed, or blanket can help a new place feel more like home. Packing plenty of enrichment activities, like lick mats & healthy chews, can also help your pet decompress, as these activities will release endorphins and help promote relaxation.
Supporting an anxious pet should also start well ahead of your trip. Current evidence suggests that continuous, daily cannabinoid support may be more effective than single doses, and the full benefits may not be realized until up to 2 to 4 weeks of daily supplementation. To help understand which supplement would best support your pet's unique concerns, check out our guide.
No matter where your adventures may lead, we hope these tips will help you & your canine companion stay safe & happy for the road ahead.